Verified campsite information
Holiday tailored to your personal wishes
List of available accommodations
Order Price
View photos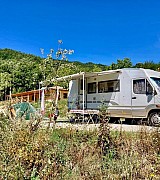 Campsite » Camper/Caravan
max 10 Persons
Pitch with electric hook up
Pitch with water connection
Wi-Fi
Pitch camper / caravan with panoramic view and connection for electricity and water. The campsite is...
— Read more
View photos
Campsite » Tent
max 10 Persons
Wi-Fi
Mountain view
Showers with hot water
Tent pitch on a grassy lawn with panoramic views. The campsite is equipped with toilets and a common...
— Read more
Fattoria dell'Autosufficienza
The camping of La Fattoria dellAutosufficienza will open on July 1st, 2020.
A marvelous terraced space with a breathtaking view has been created a few tens of meters from the main building of the farm in order to accommodate tents, campers and caravans among the dry-stone walls and fruit trees of ancient varieties.
The campsite is equipped with toilets and a common area where you can cook with your own equipment (including stove) and wash your dishes.
Camper pitches have electricity and water connection.

Also for the construction of the campsite, we applied the highest possible ecological standards for agricultural camping.
The central building follows green building principles and the walls and roof were constructed using wood, straw bales and limehemp.
Hot water is heated thanks to solar panels and electricity is produced by the photovoltaic system located above the structure. Cold water, on the other hand, comes directly from our water springs. Waste is carefully differentiated.
General Information

Medium/big sized dogs allowed

Payments with credit card

Dogs allowed in accommodations

Type
Area
Services

Sanitary suitable for the disabled

Activities
Check-in from 3pm to 9pm
Check-out by 10.30
Cancellation / Deposit Refund Within 7 days from the date of arrival, no penalty, if the deposit is lost in the 7 days prior to the stay.
Children and Extra Beds Children up to 6 years free
Animals Allowed Yes
Accepted Credit Cards Visa, Mastercard
How far is the Camping from the beach?Not present (we are in the mountains)
The beach is equipped or free?Not present
The use of the swimming pool is included in the price?Not present
There is a Club Card to pay?Not present
How far is the village from the nearest city center?3,5 Km
Accommodations are equipped with bed linen, bath linen and crockery?No
Accommodations are air-conditioned?No
Accommodations are equipped with TV?No
Half Board or Full Board treatment available?Only on weekends (from Friday for dinner to Sunday for lunch)
Hot showers are to be paid?No
Final cleaning is included in the price?No
Check-infrom 3pm to 9pm
Check-outby 10.30
Cancel/Confirmatory deposit:Within 7 days from the date of arrival, no penalty, if the deposit is lost in the 7 days prior to the stay.
Children and extra beds:Children up to 6 years free
Pets allowed:Yes
Accepted creditcards:Visa, Mastercard